CraftGasm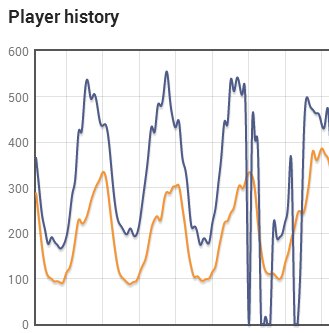 Connection issues have been on the networking level and are our hosts fault. They are well aware of the issue and working to fix it. Thousands of the worlds largest servers have been experiencing issues all day. This is simply because we all use the same host. Feel free to let them know how you feel at
http://reliablesite.com/
We have also implemented a new lobby server, it should be much easier to navigate. I know that the old hub was really nice but I prefer to have a simple and easy to navigate lobby where you dont have to run for 30 seconds to get to a portal. I am also aware of some permissions issues on Factions, were making a list and they should be fixxed pretty easily. We apologize for the issues.
Servers having issues ( Its not our fault, plz no hate :[ )

Also, the unban package was removed from the BuyCraft store. That was a bad idea and should never had been added.


​
Factions is finally here! So, please post any bugs or issues here. Also, note that shop prices are subject to change. Join Factions by typing /server factions or by using the compass in the hub. Now, Savior is also for sale in the shop to celebrate the opening of Factions. Some people may be upset with this but I don't see it fair to give people that purchased the rank abilities over everybody else that are significantly better.
Today we experienced some downtime. I managed to get the server back online by migrating our databases to a new host. Our current host appeared to be rate limiting our connection between servers. Until our current host can resolve the issue we will need to use a temporary database host.
Edit: We have found the source of lag on Skyblock! Turns out it was with pets. Were going to try to find out why but for the time being we have disabled the pets plugin on the skyblock server.
There will be a sale until Thursday for 20%. store.craftgasm.net
Due to popular demand the Savior rank has received /fix all on Skyblock. Sethomes, and a bunch of other not working perks have also been fixed.

Some players still haven't been able to connect to the new website. This is simply because of DNS changes and we need to wait for them to propagate. At most it should take another 24 hours. To speed up the process you can restart your computer, clear cache, and flush your DNS cache.
Some people have also had trouble connecting to the server. Please refer to this thread on the Spigot forums if you are receiving an error that has "no more information"
http://www.spigotmc.org/threads/some-players-cant-connect-to-bungee.23791/
otherwise post here.
Other than that only little bugs are known, more items were added to the Skyblock menus, and the ability to buy some materials in stacks. We have also deployed a new store.
store.craftgasm.net
we need your help to fund the server, especially right now.
EDIT: Verification emails now come from
[email protected]